To limit the spread of the coronavirus, attractions may be closed or have partial closures. Please consult government travel advisories before booking. The WHO is closely monitoring the coronavirus and more information can be found
here
.
Pawon Temple (Candi Pawon) Tours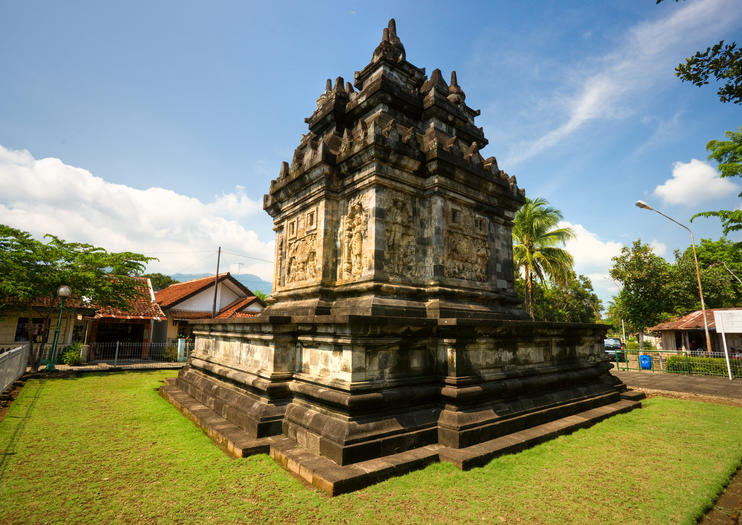 Set in between Borobudur and Mendut Temple, Pawon Temple (Candi Pawon) is a small temple with a pyramidal roof, similar in style to Mendut Temple. Some believe it was the resting place of the Sailendra king Indra; others argue that it served as a ritual gate to Borobudur. Reliefs suggest it was devoted to Kubera, the god of wealth.
The Basics
Barely a mile (1.5 kilometers) from Borobudur and under a mile (1.2 kilometers) from Mendut Temple, Pawon Temple is typically visited as part of a Borobudur tour, often including Mendut Temple as well. There is a token charge for admission, which also covers entrance to Mendut Temple (entrance to Borobudur is via a separate ticket). Like Borobudur, Pawon Temple is most often visited as a day trip from Yogyakarta, although there is accommodation in Magelang, close to Borobudur, for those who wish to visit independently.

Things to Know Before You Go
Pawon Temple is of interest to history buffs who want to comprehend Borobudur more completely.
The site is surrounded by tile-roofed houses, so don't expect the sort of epic temple photos Borobudur can deliver.
Pawon is a small site. Don't budget to spend excessive time here.
How to Get There
About a mile (1.5 kilometers) east of Borobudur, and a smaller distance west of Mendut Temple, Pawon Temple is best visited along with Borobudur, from which it is walking distance. Public buses depart for Borobudur from Yogyakarta's Jombor terminal roughly half-hourly until mid-afternoon; there are also buses from the Borobudur terminal to Magelang.
When to Get There
Pawon Temple is open from morning to afternoon seven days a week and much less busy than Borobudur proper, so focus on hitting Borobudur at the right time, not Pawon. The single best time of year to see any of the Buddhist monuments around Borobudur is at Waisak (Buddha's birthday), which falls in May or June each year according to the lunar calendar.
Who Built Borobudur and Pawon?
Java is home to over 100 million Muslims nowadays, but it has a long history with different religions. The kings who built Borobudur—and associated temples such as Pawon Temple and Mendut Temple—belonged to the Sailendra dynasty, who promoted Mahayana Buddhism and ruled a vast sea empire before disappearing from the record in the middle of the ninth century.
Address:
Desa Borobudur, Kecamatan Borobudur, Kabupaten Magelang, Jawa Tengah, Indonesia, Indonesia
Read More
Show Less
35 Tours and Activities to Experience Pawon Temple (Candi Pawon)
Frequently Asked Questions
The answers provided below are based on answers previously given by the tour provider to customers' questions.
Q:
What's the best way to experience Pawon Temple (Candi Pawon)?
---